Today, Rosé of BLACKPINK shares her massively anticipated debut solo project, R, along with a merch capsule available at shop.blackpinkmusic.com/collections/rose. Released via YG Entertainment/Interscope Records, the single album consists of two unforgettably vulnerable tracks co-written by the K-pop icon: "On the Ground" and "Gone."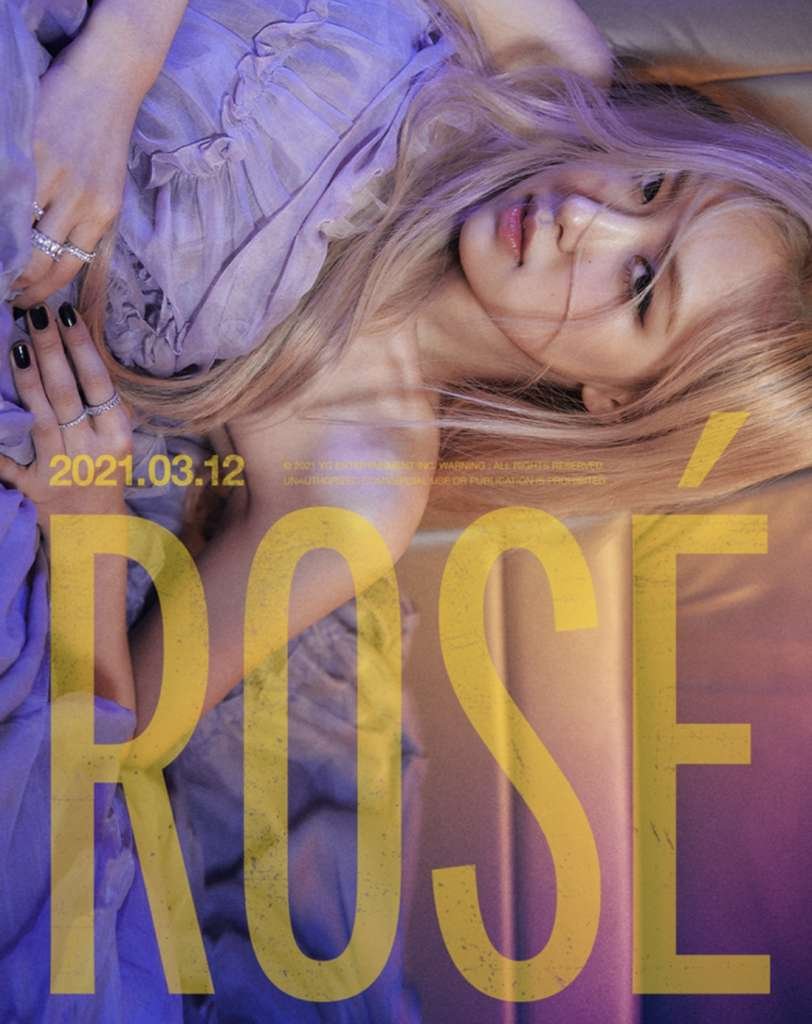 SINGLE ALBUM FEATURES LONG-AWAITED TRACKS "On the Ground" & "Gone"
LATE NIGHT TV SOLO DEBUT ON THE TONIGHT SHOW STARRING JIMMY FALLON ON 3/16

Produced by frequent BLACKPINK collaborator TEDDY, acclaimed songwriter/producer/artist Jon Bellion (Katy Perry, Miley Cyrus), Jorgen Odegard (Justin Bieber, P!nk), Ojivolta (Selena Gomez, Halsey), and 24, "On the Ground" is an intimate look at the cost of ambition and chasing your dreams, with Rosé bringing her stunning vocal work to a gorgeous backdrop of soulful guitar tones and radiant beats. In creating the raw and reflective track, Rosé co-wrote with Bellion as well as heavy-hitters Amy Allen (Sam Smith, Zara Larsson) and Raul Cubina (Playboi Carti, Christina Aguilera). 
On "Gone," Rosé matches the pure emotional depth of "On the Ground," this time offering up a stripped-back breakup ballad produced by Brian Lee (BLACKPINK, Post Malone, Camila Cabello). Accompanied by little more than the track's hypnotic guitar work, her voice turns heartbreakingly tender as she delivers her confessional lyrics ("Now I'm all alone, crying ugly/You broke my heart just for fun/Took my love and just left me numb"). 
Along with "On the Ground" and "Gone," the CD and vinyl editions of R include instrumental versions of both tracks. Rosé is now the second member of BLACKPINK to release solo material, with singer/rapper Jennie having shared her single "SOLO" in November 2018. 
R arrives just months after BLACKPINK dropped their debut full-length effort THE ALBUM. Released on October 2, the record-breaking project debuted at #2 on the Billboard 200, marking the biggest chart debut by an all-female group in over 12 years. With guest spots from fellow superstars Selena Gomez and Cardi B, THE ALBUM also smashed the record for highest first-week sales for a debut album from a K-pop group in all of music history. That same month, BLACKPINK premiered Light Up The Sky, an all-access Netflix documentary detailing the hard-fought journey behind the group's meteoric rise. 

ABOUT BLACKPINK: Since bursting onto the scene in 2016, BLACKPINK have redefined the possibilities of K-pop, transcending all categorization and ascending to global stardom. With their unstoppably catchy single "DDU-DU DDU-DU," the South Korean quartet broke the record for highest-charting Billboard Hot 100 debut by an all-female K-pop act, while its head-turning video surpassed 10 million views in just six hours and racked up 36.2 million views in one day. 
Discovered by YG Entertainment, BLACKPINK is comprised of JISOO, JENNIE, ROSÉ and LISA: four immensely charismatic vocalists, dancers, and burgeoning fashion icons. Released in 2016, their debut "SQUARE ONE" quickly proved their crossover power; in 2018, "SQUARE UP" climbed to #40 on the Billboard 200 and #1 on the Billboard World Albums chart. Several months after "SQUARE UP" hit the charts, YG Entertainment and Interscope Records announced a global partnership for BLACKPINK, paving the way for the group's international breakthrough. With their EP Kill This Love arriving in April 2019, BLACKPINK further boosted their popularity by successfully completing a world tour and becoming the first K-pop girl group to perform at Coachella, the largest music festival in the U.S.