Six Creative Women Doing Great Things
To celebrate Women's Month we are highlighting the life and careers of six creative women doing everything from dominating fashion week to designing "Panties with Purpose" and even the next big Nashville music star.
THALE BLANC
Founded by Deborah Sawaf in 2010, Thalé Blanc is a luxury fashion brand specializing in women's designer handbags, accessories, and jewelry. In 2020, Thalé Blanc launched "Statements," a ready-to-wear collection of luxury clothing that delivers chic elegance with a touch of sporty playfulness in every stitch. The collection debuted at New York Fashion Week and was inspired by Deborah's belief that "every woman is a statement by her very being & what better way to pay tribute to women than by having my collection be a part of my customers' everyday personal statement." 
While running a luxury lifestyle brand is already a full-time job for Deborah, the designer still makes time to give back to her community through a variety of mentorship programs that she's established with young designers and as a regular lecturer at Georgetown University.
RORY WORBY
Rory Worby is the artist and creative force behind an offering of exquisite, hand-painted silks inspired by nature that blur the lines between fashion and fine art, the culmination of her fashion-forward vision gained from twenty-five years in the apparel industry, and formal training as an artist. Rory studied studio art and illustration before joining NYC's garment center, where she ran a studio of over 50 artists, hand painting fabric for both apparel and home furnishings. Her hand-painted silks – meticulously drawn florals, vivid animal prints, lively abstracts and expressive primitives reflect her passion for nature.
After a 25-year career, she decided to re-invent and launch her own brand Rory Worby Studio which won the FGI Rising Star Award in 2020. With such a prolific career, it is more than likely that her designs have already found their way into your closet under designer labels, catalogues, and private label lines.
SHAUN LEON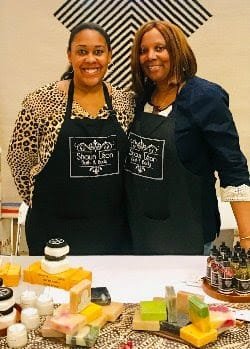 Globally sourced and handcrafted in Brooklyn, New York, Shaun Leon Bath & Beauty is an artisanal suite of natural beauty oils and bathing botanicals. The oil blends, bath teas and salt soaks are formulated from natural oils, minerals and herbs. Handcrafted to ensure effectiveness and embody the belief that ingredients derived from nature are agents of wellness and self-care.
Though all skin types can experience dry skin, those issues tend to show on Black and darker skin tones faster. Shaun Leon is one of the few bath and body collections formulated specifically for the needs of Black and darker skin. Their products create the suppleness that customers are looking for and are meant to absorb quickly. It's skincare women of all colors can really count on.
The founders – Leona and Shaunya Hartley, a mother and daughter team – are proud to deliver an uplifting line of products that will upgrade both your internal and external beauty regimen.
LISA F PLINER
Lisa F Pliner is a loving wife and mother, accomplished philanthropist, children's book author, shoe designer and artist. After meeting her husband, the legendary shoe designer Donald J Pliner, she became his muse collaborating on many shoe designs over the next 23 years. She also co-founded "Peace For The Children Foundation," which has provided charitable grants supporting non-profit organizations for the past decade.
In December 2020, she premiered her podcast "Over 40 & Loving Every Minute Of It" where she talks with her good friends as well as the top experts about relationships, wellness, and fashion, and even body shaming, coping with husbands, and kids at home 24/7 during COVID-19. It's all about loving yourself as you get older and not be scared to speak up and ask the question that you may be afraid to ask.
In addition to her new podcast, Lisa's latest projects include a children's book "A Puppy Dreams Comes True" and an art collection Incognito 18 of custom bejeweled skulls and teddy bears.
MAD MAC
With 33 years of experience in the industry, first as a buyer then on her own as a sales representative, it was only fitting that Mad & Mac was born. Designer and owner Rita Harris, had spent years developing, launching labels and looking for the next collection of lingerie to introduce to the consumer. The opportunity to do it for herself presented itself when Neiman Marcus asked Rita to develop a collection of lingerie – the birth of Mad & Mac. Mad & Mac is named after her daughters – Madison and Mackenzie – what she notes as her best creations. With the addition of Sue Ritzman, a sorority sister, as Co-Designer and head of production, the team was formed.
The Mad & Mac collection is completely produced in the US, as a daughter of a Mid-West farmer, it was only a natural decision for Rita. The brand is also a proud supporter of the Mary Krug Memorial Scholarship Fund which is committed to raising scholarships for students of fashion merchandising. The designer prides her collection as "panties with a purpose" and is looking to collaborate with more community driven initiatives as the brand grows.
MACKENZIE HAUBNER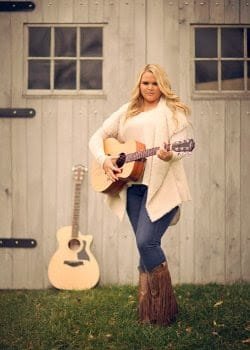 Mackenzie Haubner is an American Country music singer and songwriter. Raised in Dallas, Texas, at the age of 12, she embraced her passion for music by joining the prestigious Septien Entertainment Group, the same team behind Demi Lovato, Selena Gomez, and Kacey Musgraves. It wasn't until her family friends Randy Travis and his wife Mary told her to get voice lessons she felt a career in country music may just be in her future. She worked hard with her voice coaches and in 2015 saw her passion become a reality when she auditioned and was chosen as an emerging artist in the Master Select Program at Septien Entertainment Group. Since, the House of Blues has twice named her Songwriter of the Year for her outstanding songs she debuted during the legendary stage's showcase. In 2018, she moved to Nashville where she now resides and is set to share her passion with the world as she debuts of her first complete LP.