Originally from Toronto, Ontario, the Ashley Sisters are an American country sister duo based out of Nashville, Tennessee. Lauren Ashley (lead vocals/bass guitar) and Marlo Ashley (guitar/vocals/piano) are songwriters, performers and musicians who have credited social media and traditional radio play for their rise to fame.
The Ashley Sisters are the Newest America's Sweethearts. The sisters have a wholesome innocence. They embody girl power through friendship and sisterhood.
These sisters write all of their own music and lyrics. Lauren and Marlo write playful lyrics with a devil-may-care, light-hearted and forward-thinking attitude. They are a little bit country and a little bit rock 'n' roll. The Ashley Sisters symbolize girl power and have been compared to female icons the Judds, Shania Twain and Heart.
The sisters prove they have country music in their bones. They are on the rise in the music industry with blessings from radio programmers in the United States and significant support from radio and industry alike in Nashville, Tennessee.
The Ashley Sisters reached the Top 80 MusicRow CountryBreakout™ chart and Country Indicator New and Active© on the Billboard™ radio chart.
Hello Marlo and Lauren! For those unfamiliar with you, tell us a little bit about yourselves and your background outside of the world of showbiz.
Marlo: We are very close to our family.
Lauren: Quality time with our family is important to us.
How did you guys get started in the music industry?
Lauren: Our grandparents were musicians. Our maternal grandfather was a saxophone player and our maternal grandmother was a lounge singer.
Marlo: We wrote our first song together when I was ten years old. I wrote a poem and we put the words to music.
Being originally from Toronto as opposed to traditional country music strongholds such as the southern US, how did country music become such an influence?
Marlo: We connect with the stories of traditional country music.
Lauren: The sound of the full band and the guitar solos!
Describe your collaboration process with your sister—how do you make music?
Lauren: We bounce ideas off each other and inspire one another both musically and lyrically.
Marlo: Once we determine what we want to write about, the song flows naturally.
Your genre has been called "Outlaw Country-Pop," how would you define that to someone unfamiliar with it?
Marlo: We are outlaws because we write forward thinking girl power lyrics with a rock 'n' roll devil-may-care attitude.
Lauren: Our music is all about storytelling, which is country to a hilt.
What Ashley Sisters song has the most personal meaning for each of you and why?
Marlo: We have a ton of unreleased music that has personal meaning — we can't wait to share! The lyric, "I want someone to consider me," in 'Country Music Kinda Love' has a personal meaning to me because it is about knowing your worth and girl power.
Lauren: I would say 'Reckless' because it was our first song out to country radio and it is badass!
What is it about being entertainers/influencers that appeals to you most?
Marlo: I love connecting with fans through storytelling.
Lauren: I love performing whether it is to one person or to thousands. I feed off their energy as they do mine and it is an intense symbiotic experience.
What has been your most memorable moment in show biz so far?
Lauren: There are so many. We are enjoying the journey and taking in all the moments as memorable.
Best advice you have gotten so far in your career?
Marlo: Enjoy the ride!
Lauren: Push through the hard times and enjoy the good times.
Long-term career goals?
Marlo: I would like to write and create music for a long time.
Lauren: To have our music heard by as many people as we can.
Biggest pet peeve?
Marlo: I do not like the smell of oranges!
Lauren: We don't keep oranges in the house anymore. It would be shoes on the bed for me.

Secret obsession?
Marlo: My secret obsession is reading a book, usually historical fiction, beside the fireplace.
Lauren: I love design and architecture.
Tell me something people would be surprised to know about each of you.
Marlo: I have a sewing machine and I'll sew and repurpose my old clothes.
Lauren: I love to skate and watch hockey games.
What are you working on or have coming up next?
Marlo: We have been writing a lot of new songs and we can't wait for you to hear them.
Lauren: We will be traveling to Los Angeles and Nashville to record some new music soon and we are very excited.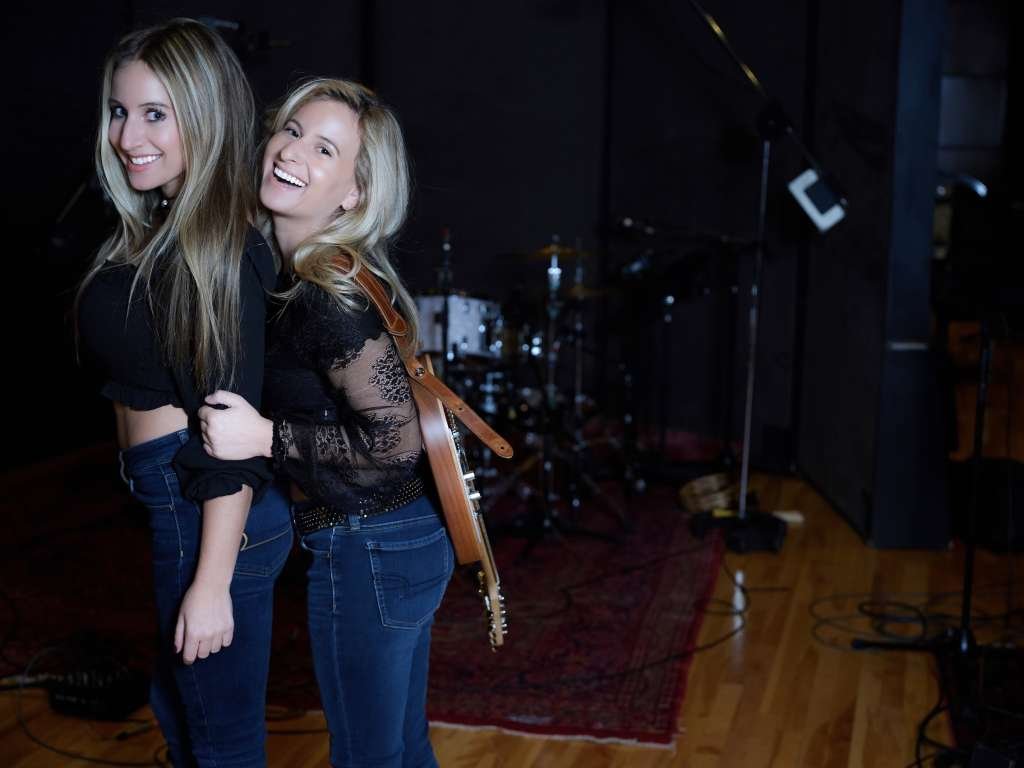 www.facebook.com/theashleysisters
www.youtube.com/theashleysisters
www.instagram.com/theashleysisters